Omni Connect
Omni Connect allows you to quickly and simply arm and disarm your ethernet-enabled HAI Omni controller or control your home lighting mode on your HAI Lumina controller. Omni Connect also provides a a summary of alarm conditions and system troubles. If you are looking for a quick and easy way to arm and disarm or control the lighting mode of your system Omni Connect may be for you!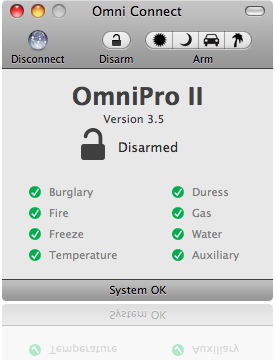 Features
Set day, night, away, and vacations modes on Omni and Lumina controllers and disarm Omni controllers
View status of burglary, fire, gas, and other alarms
View system troubles
Reconnect automatically to the controller when opening the application (optional)
Compact, easy to use interface
Omni Connect is free to use for end-users (owners) of HAI controllers. If you are an installer, dealer, or distributor who would like to distribute or include Omni Connect with products or services
let us know!
Requirements
Ethernet-enabled HAI Omni or Lumina Controller

OmniIIe
OmniPro II
Lumina
Lumina Pro

Controller firmware 3.0 or higher
Mac OS X 10.6.0 (Snow Leopard) or higher